Topic: Don de Swardt
Firstly Thank you so much to Pokkis and the participants for making this possible....What a legendary idea.
This whip was started before the whip swap idea. It will be whip number 3. So I am both nervous and scared that it will be a disappointment to my recipient. So to you (whoever you may be) I will make you the best whip I can, I promise.
Ok on that note, this thread is to show where I am in the build process and to get feedback. Honest feedback. you never know, you may be influencing the way your whip gets built. So tell me exactly how you feel about things.
Whip specs.
6.6 ft bullwhip
1 strand BB loaded core (to midway)
8 strand 1st belly
12 strand second belly
16 strand overlay.
Here is where I would like the first feedback... I while back we were having a conversation about handle length. The average length being around 10 inches. I wanted to make a whip with a long handle to see how this would feel. I settled on 15 inches. But then the plan for this whip was for me so I didn't really mind making the handle too big, it was an experiment. I have now decided to use this whip for the swap, because I don't want to fall behind on the build (the next few months are busy for me getting married and end of year auditing etc). So will a 15 inch handle ruin a 6,6 ft bullwhip. Should I shorten it now before I carry on. Or should I continue and then get an honest opinion from my recipient?
Without further ado, here is the whip. Core was completed and then bound with artificial sinew (AS). 3 layers gradually decreasing. 1st belly was completed and once again bound with AS in 3 layers.
Full whip as is now

handle, white blob is my pratley putty heel knot foundation, will get evened out at the end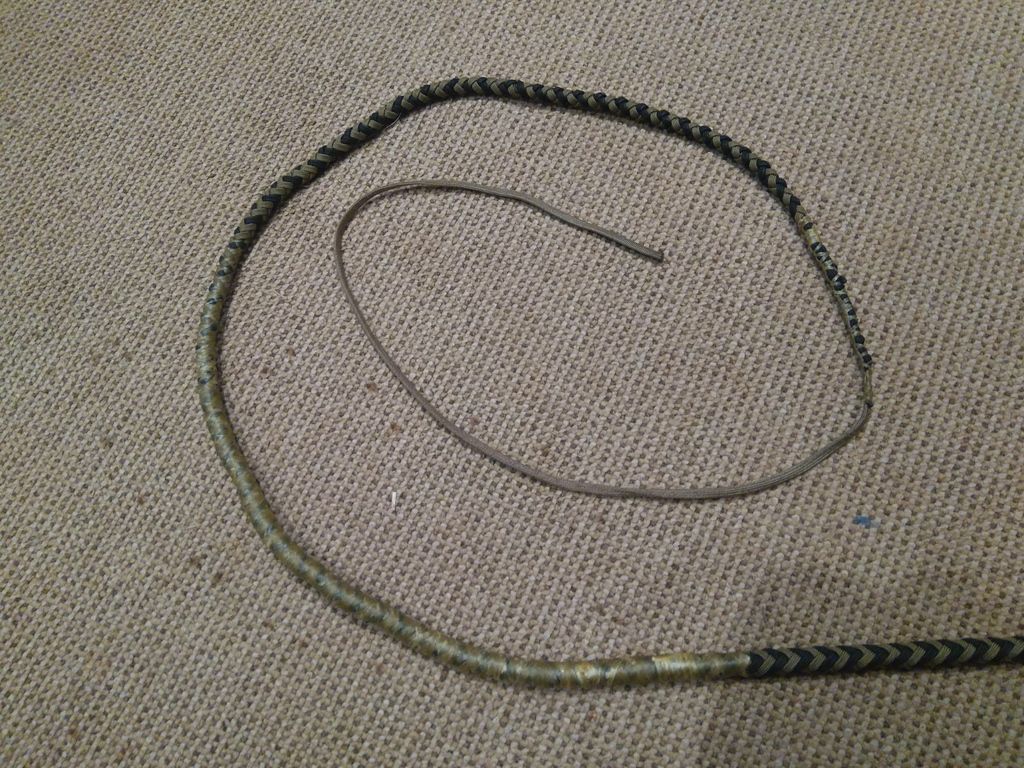 body